Electric Fence Power Probe® Mach II
Fence Fault Finding Made Easy!
The Pakton Power Probe was the first of a new generation of directional fault finders. The Power Probe was the first electric fence tester to show fault direction arrows and the first to do away with the earth lead. The Pakton Power Probe is now proudly sold in many different countries.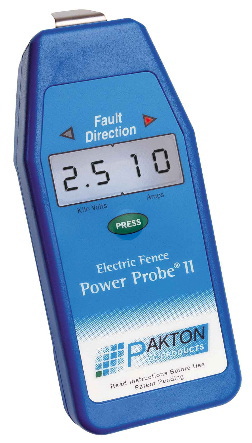 Features:
Water proof
Integrated (removable) belt clip
Longer battery life
Ergonomic case design
Fingers are further away from high voltage
Bright red LED direction arrows
Simple to use - one touch operation
Clearly indicates the direction of the fault
Digital readout shows fence voltage and current
No wires or clips means no tangles, no shocks!
Easy to carry - pocket size
Better than the others:
Australian made by the inventor of directional fault finders
Displays direction to a "high load" fault, not just current flow
No setup, no calibration, straight from the box to finding faults
Standard easy to find battery
Will take you right to the fault, not leave you meters short
Won't fall into a hundred tiny bits when you try to change the battery
Product Support
Pakton Technologies proudly supports the product, please contact us for assistance over the phone or via email.
Further Information
Read the Electric Fence Power Probe® User Manual
Find answers to common questions.
If you are having trouble with a low voltage reading after changing the battery please read this helpful page.